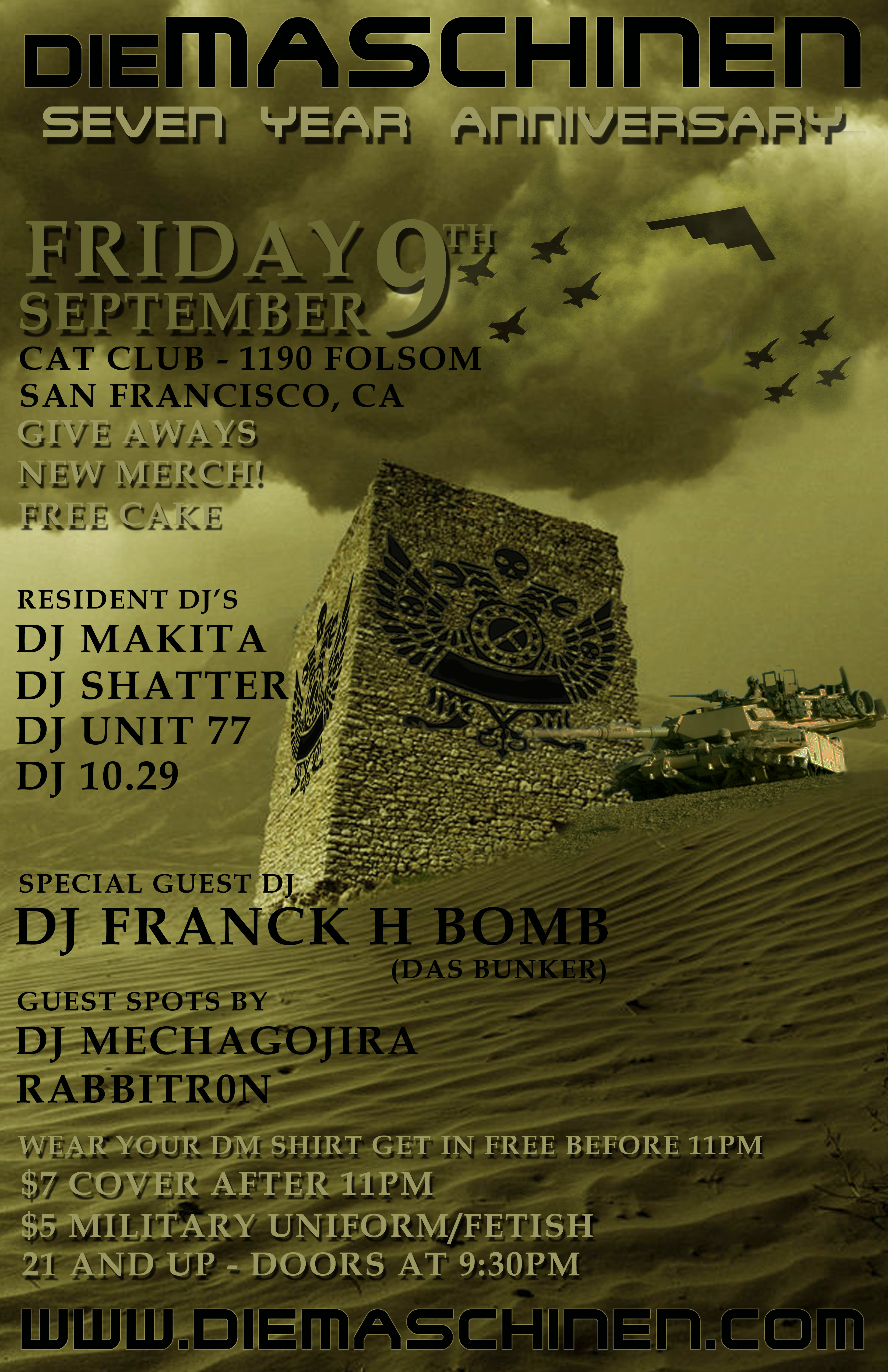 September 2011 marks Seven Years of Die Maschinen keeping Industrial music alive in the bay area. This year we've pulled out the stops.
… DJ FRANK H-BOMB (Das Bunker) will grace our decks with an audio assault straight out of Los Angeles . The founder of Das Bunker will save everyone in SF a trip down south by performing for us up here. This is the first time since the days of DEKONSTRUKT that he's been to the Bay Area. This is your chance to come check him out.
RESIDENTS FROM FUTURE PAST
DJ's Mechagojira and Rabbitr0n will be back on the decks to round out Seven DJ's for Seven Years.
RESIDENT DJ's

DJ Makita, DJ Shatter, DJ Unit 77, DJ 10.29
2 Dance floors and cheap, strong drinks!
NEW SWAG! We have a new logo and there will be new swag including shirts, hoodies, stickers and patches.
MASCHINEN CAKE! Our cakes are epic.
We'll be launching our VIP program this month which will reward everyone who has supported us over the years. Check in at the SWAG table to find out more info.
Free Give away's throughout the night.
FREE ADMISSION – That's right. Wear your DM swag from years past and get in FREE before 11pm.
Military Fashion, Uniforms and Fetish wear get in for $5
Dress to impress as there will be photos taken for sure!
$7 all night for everyone else.
21+ with valid ID
Cat Club
1190 Folsom Street @8th
San Francisco